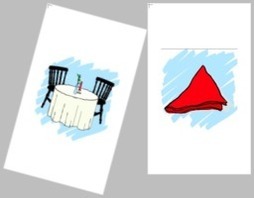 Artwork sample only - actual product is in the target language.
Restaurant
54 cards in this set. 27 with images only and 27 with text only. Text is in Target Language. Includes: Items commonly found in a restaurant -
oil, the bill, bottle, bread, fork, glass, knife, menu, serviette, pepper, salt, plate, spoon, sugar, table, tablecloth, tray, waiter,vinegar, breakfast, lunch, dinner, snack, table for two, main course, entree, dessert.